Culture
Barack Obama's New Song With 'Hamilton' Creator, Lin-Manuel Miranda, Lands Him On Billboard
4th January 2019 by BOTWC Staff
Photo: Alex R. Kirzhner
Former President Barack Obama showcased his love for music on multiple occasions during his presidency. Whether he was singing "Amazing Grace" at a funeral or Al Green's "Let's Stay Together" at the Apollo theater. Now, his recently remixed song, "One Last Time (44 remix)," with Lin-Manuel Miranda, has landed him at number 22 on Billboard's Hot R&B songs.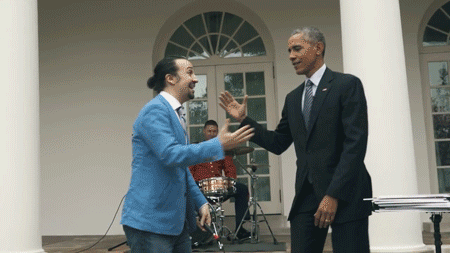 Photo: GIPHY 
The song is a part of Miranda's 2018 "Hamildrop" series where he remixed songs from his award-winning play "Hamilton" to raise money for various non-profits.

The track also features Gospel singer, BeBe Winans and Hamilton cast member Christopher Jackson.
Since President Obama already has a new book on the horizon, this new feat might be just the sign he needs to gift us with his very own album next. Either way, our forever president can add Billboard charter to his growing list of inspiring accomplishments!
Related Posts
11-Year-Old Celebrates His Birthday By Opening Up A Thrift Store
For the last two years, 11-year old Obocho Peters has dreamt of opening a thrift store to help families in need find ...
Read More